Fundraiser! Pizza, Salads and More
When: May 18, 2016 @ 11:00
Where: 4042 24th Street
San Francisco, CA 94114
Description of the event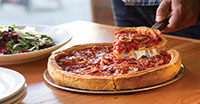 Fundraiser at Patxi's Pizza in Noe Valley
Join us at Patxi's Pizza in Noe Valley on May 18th at 5:30 pm, to support
The Center for Harm Reduction Therapy.
If you are unable to join us after work on the 18th, you can order from Patxi's in Noe Valley anytime on the 18th and still support us! Order food to take home or a half-baked pizza for another time! Patxi's Noe Valley will donate 10% of their proceeds for the entire day (11am-10pm), this includes dine in, take out and delivery only from the Noe Valley location.
Thanx App
For a free appetizer, download Patxi's Thanx app. Also, if you do join us please mention to your Patxi's server that you are supporting us.
About Patxi's
They've created a 52 Weeks of Giving program where each week at every Patxi's location, they host a fundraiser to give back to schools and organizations in communities that support youth education, health and welfare. Visit Paxti's website for more details.
Fundraiser! Pizza, Salads and More
May 18, 11 am–10 pm, (Join HRTC at 5:30 pm)
Patxi's Pizza in Noe Valley
4042 24th Street, San Francisco, CA 94114
Share this event